If the Tire/Wheel isn't centered in the wheel arch, then your lower control frame is bent. (Curbing can do that).
Measure the other side front edge of the tire to the arch and then the same at the back side. (wheels centered) Then take the same measurements for the other side.
If you have a Standard Tranny and it is the drivers side, then no worries...
If you have a Automatic, and it is the drivers side, then you will have to remove the 3 tranny mounts, and jack the transmission or lift it clear of the bolt. (yeppers it is a pain in the ass.)
Removing the 3 mounts allows you to jack or lift the Transmission up without doing to much other creative stuff, as there is only about 1/2 inch clearance between the head of the bolt and the valve body. Oh and the bolt is about 7 inches long.
They sell kits that include the bushings along with the control arm. Be warned if the new control arm doesn't easily bolt up, the new arm could be bent, as I have had that happen to me, and after 3 hours of fussing, I went local and bought a new one and 10 minutes later I was done. The hardest part of the job is getting the sway bar repositioned. I loosened all the mount points and that allowed me swing room to reattach. If you get a new control arm, then you will also need a new ball joint, if your ball joint is still new, then you could re-use it.
Passenger side plenty of room.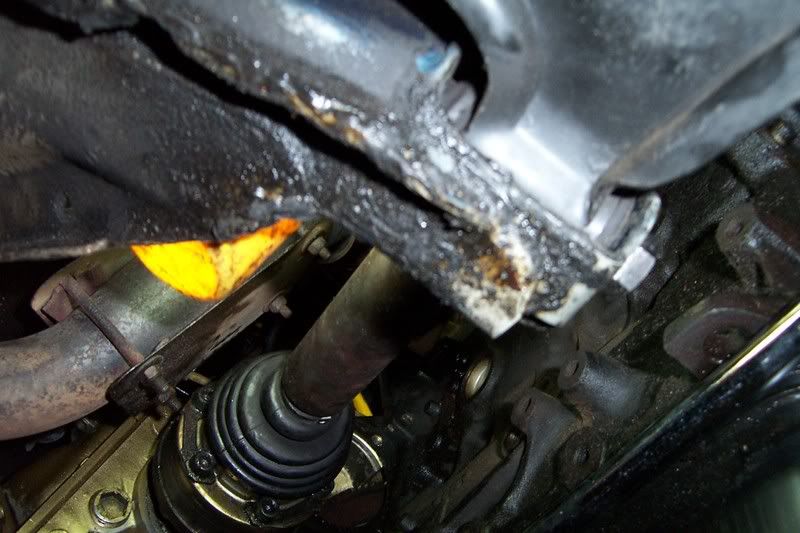 Driver side automatic... no room to swing it.