I posted this in the VWVortex forum, but it was suggested I hang out here as well.
Hi everyone. My name is Harris and I live outside Atlanta. So now that I'm fast approaching my late 30's, and am going to be a Dad in about 8 weeks, I was beginning to feel a bit nostalgic. My first car was a '78 Rabbit that I pumped gas at the local Exxon station back in Delaware every day after school and saved every penny I earned to get the $950 I paid for it in 1986. I loved that car. Then the muscle car bug bit me a year later and I sold it to buy a 1972 Olds 442. And the rest, they say, is history.
I always said "someday, I'd like to get another one." I even tried to buy that old Rabbit back in 1989 and almost convinced the owner. But I enlisted in the US Navy and never saw Delaware again. That car is probably quietly rusting away somewhere.
Anyway, I was on a mission last week to find a Rabbit. I found this on craigslist. I've been wanting a convertible with a backseat for a while, and have been itching for a toy. So this is the best of all worlds combined. And since it was only $500, I was able to keep the peace with my very pregnant wife.
My Rabbit was white with '84 GTI fender flares, '86 GTI wheels and a Scirocco Mk I interior. I'd like to paint this one white with the flares and add some teardrop wheels. The car came with a complete, nice grey tweed interior from an '89 Cabby.
It runs, but has a cold start problem. I'll dive into it this weekend, I guess. And post some better pictures. These were taken by the seller back in January, and aren't very good. That's not me, nor is that my kid. My daughter is due in November and she'll have a place in the backseat!
Scroll below the '83 for a picture of my '78 taken in early '87 that I found and scanned.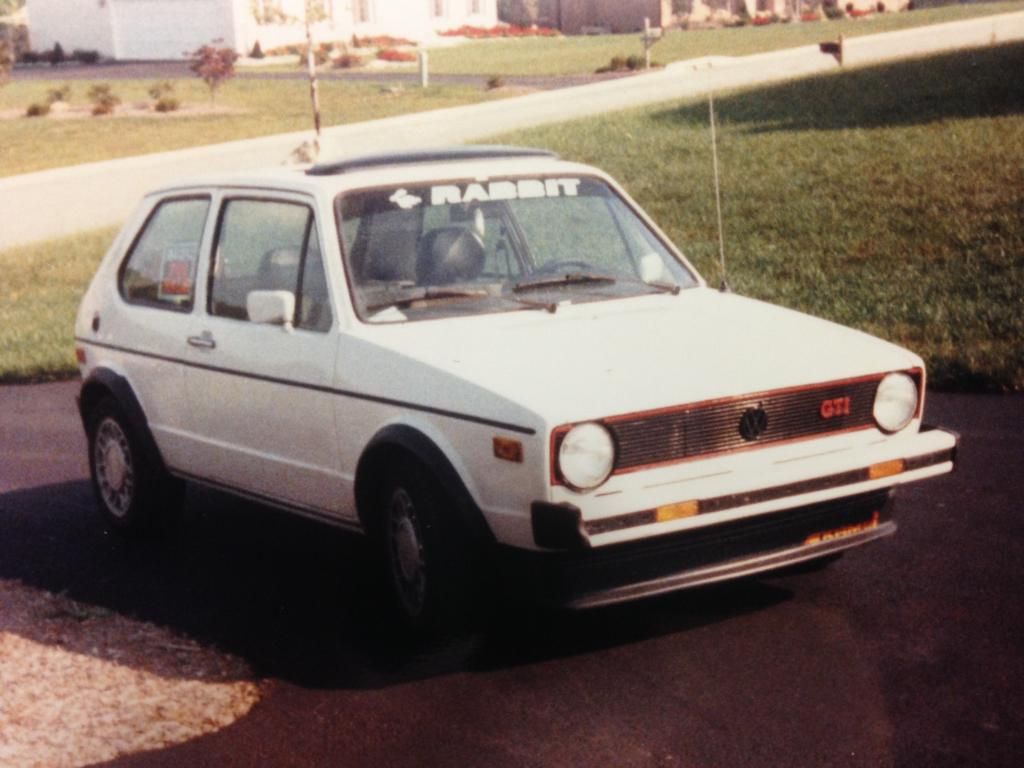 If anyone knows where to find one of those windshield banners (it was tinted and static-cling,) or one of those Kamei front airdams, let me know!